We serve both KAFM and the wider community in developing a vision for culture and radio in the Grand Valley. The KAFM Board of Directors meets the Fourth Wednesday of every month.

Board meetings are open to the public, and we encourage listeners and community members to attend.

Visit the KAFM Calendar for dates and times.

If you're interested in joining KAFM's board, we invite you to complete an application and send it along with your resume to BoardMembers@KAFMradio.org or mail to: 1310 Ute Avenue, Grand Junction, CO 81501.
---

Board Meeting Minutes and Files Archive
---
GINGER MITCHELL | PRESIDENT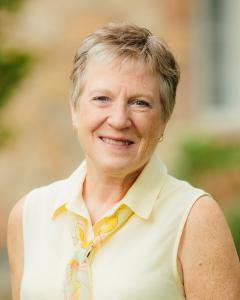 Ginger was born and raised in Illinois, then moved to Southern California in 1978 where she met and married her husband, Bill (the H-Man to our valued listeners). They bought their home in Grand Junction on a crazy impulse back in 2005 while "just passing through" and made the official move here in 2006.
Throughout her career, Ginger has worked for various corporations and consulting firms including Baxter Healthcare, Allergan, Sun Microsystems, Hewitt, and TPI. Now semi-retired, Ginger maintains her part-time consulting practice, Ginger Mitchell Consulting, and provides support in compensation design and management, performance management, and board effectiveness for both for-profit and non-profit organizations.
Prior to joining the board, Ginger provided support to KAFM's executive directors and the board on a volunteer basis. She has served as board chair for the Colorado National Monument Association (CNMA), Orange County Compensation and Benefits Association, and the Orange County chapter of the National Human Resources Association. Other volunteer work includes Dinosaur Journey Museum, Colorado National Monument, St. Mary's Hospital, and HopeWest.
Ginger and Bill are both life-long lovers of music and happy to be a part of the KAFM family. "I look forward to working with this great board and our dedicated staff to continue growing KAFM's audience and our contribution to the community."
JOE GUDORF | VICE PRESIDENT
Joe Gudorf moved to Grand Junction from Evergreen, Colorado in 2000. He went to Mesa State for marketing and was an underwriter for Colorado State University radio station KMSA 91.3. In late 2003, he moved back to Evergreen for a brief stint, where he worked for a small record label as a talent scout, while working for a small community bank in Nederland before moving back to the Grand Valley in April of 2004. Joe went to work for ANB Bank in April 2004, and has held many different positions from retail operations, branch management, retail lender, commercial lender and now credit risk review.

"While I love what I do, my passion has been music since I was a kid. I remember sitting and listening to albums with my parents on Friday and Saturday nights when I was a kid. We listened to everything from Marty Robbins to Michael Jackson. I enjoy playing guitar and still love listening to music. I listen to music while I drive, work, around the house and to fall asleep.

I met my wife Carrie in November of 2004 and we live on a small acreage property north of town with our two dogs Jackson a black lab mix and Lucy a Jack Russell Terrier. We also have two cats June and Cheyenne and two horses, Bear and Grace. We lost two of our beloved dogs in the past year. We love going to concerts and have made countless trips to Denver and even Phoenix to catch live music. I love finding new music and sharing it with friends and family.

I like to be involved in the community and have been involved with Doors 2 Success, the non-profit board for the supportive services of the Grand Junction Housing Authority. I have sat on the board since its inception in 2007 and have been honored to be the board chair for the past seven years."

These are a few of my favorite quotes:

"Music…will help dissolve your perplexities and purify your character and sensibilities, and in time of care and sorrow, will keep a fountain of joy alive in you." – Dietich Bonhoeffer

"One good thing about music, when it hits you, you feel no pain" – Bob Marley

"Music does bring people together. It allows us to experience the same emotions. People everywhere are the same in heart and spirit. No matter what language we speak, what color we are, the form of our politics or the expression of our love and our faith, music proves: We are the same" – John Denver
HARRY GRIFF | TREASURER
Harry Griff is a retired attorney. He was one of KAFM's founding board members, and has been a member, underwriter and programmer since the station's inception. He not only loves the variety and quality of the music the station plays, but its support of the valley's other worthy non-profits and cultural initiatives.
In addition to his support of KAFM, Harry has been actively involved with, among other things, the Downtown Development Authority, Downtown Uplift, Avalon Theater renovation, and the musical amphitheater at Las Colonias Park. He is married to his high school sweetheart Joan, and has 2 children and 3 grandkids. In his spare time, he loves to exercise, play pickleball, bike ride, hike, read and spend time with his family.
BARRY BARAK | SECRETARY
Barry joined the KAFM Board of Directors in May of 2020. This is his third time in a Board seat, having previously served for six years in the 2000s and for five years in the 2010s, with stints as Vice President and President in each of those decades.
Barry hosted "Folkwaves", an acoustic Americana singer/songwriter program, on KAFM for more than 15 years. He also coordinated the "Watts Up!" capital campaign to fund the station's signal boost from 16 to 300 watts. Barry is a monthly financial contributor and urges all listeners to open their wallets, as well as their ears, to KAFM!
SHEA BRAMER | BOARD MEMBER
Shea Bramer has been immersed in the Grand Junction Music and Entertainment scene for nearly 2 decades. Shea has several years of experience working in Commercial Radio, and over a decade of experience in Graphic Design, Web Design, and Digital Marketing.
Shea is currently the Marketing Director at Major Mortgage. Shea is working on several new original music singles with Nashville Producer Lost Terra, and is hoping to release them soon.
Shea and his girlfriend Eliana recently welcomed 4 month old baby Lachlan to their family, who is absolutely adored by his a 15 year old sister and 11 year old brother.
STEFANIE HARVILLE | BOARD MEMBER
MARIA RAINSDON | BOARD MEMBER
STEVE WESEMAN | BOARD MEMBER
My wife, Elaine, and I moved to Grand Junction in 2005 to open a Servpro franchise. Servpro is still active in the Valley although we sold the business and retired in 2014.
Elaine and I lived in, or close, to Green Mountain Falls, Colorado. Elaine was born and raised there, while my family moved there in 1963. We were uprooted from our life in Elgin, Illinois by my father's wanderlust. After two months of bemoaning my fate, I found myself in love with the beauty of Colorado. That love has never faded.
After serving in the Navy and seeing the world, I came back to Colorado working a variety of jobs while obtaining a B.A. in English Literature and Education from The Colorado College.
Finding myself in need of a full time job I became an insurance adjuster, a job that sustained us until we bought the franchise. And, no, I didn't do it on my own. Elaine was a librarian with the Pikes Peak Library District for 28 years while she also mothered our two children, Aaron and Dana. We just celebrated our 50th wedding anniversary on January 24, 2020.
My connection with KAFM started as an underwriter. After the franchise sold I continued that contact as a contributing member. I'm a believer. I'm hoping that belief will help keep KAFM on the great track it is traveling.