KAFM's Board of Directors is accepting applications for upcoming openings. To learn more about the responsibilities, please review the board member roles and expectations. You can also complete an application at this time, and please email the form to KAFM Board Members HERE.
KAFM Board of Directors Meeting Schedule
All KAFM Board of Directors meetings are open to the public. Meetings are scheduled in KAFM's Radio Room, every 4th Wednesday of the month at 5:00 PM MTN, in KAFM's Radio Room, 1310 Ute Avenue, Grand Junction, CO 81501.
Some meetings may be scheduled by Webinar and will be noted in KAFM's Calendar of Events.
November 11, 2023 - Annual Board Retreat

December - No Board Meeting
2024 Board Meeting Schedule
January 24, 2024 - Board Meeting

February 28, 2024 - Work Session

March 27, 2024 - Board Meeting

April 24, 2024 - Annual Directors Meeting

May 22, 2024 - Work Session

June 26, 2024 - Board Meeting

July 24, 2024 - Work Session

August 28, 2024 - Board Meeting

September 25, 2024 - Work Session

October 23, 2024 - Board Meeting

November 27, 2024 - Annual Board Retreat (Location and Confirmed Date TBD)

December - No Board Meeting
To learn more about service on the board email BoardMembers@KAFMcommunityradio.org
---

Board Meeting Minutes and Files Archive
---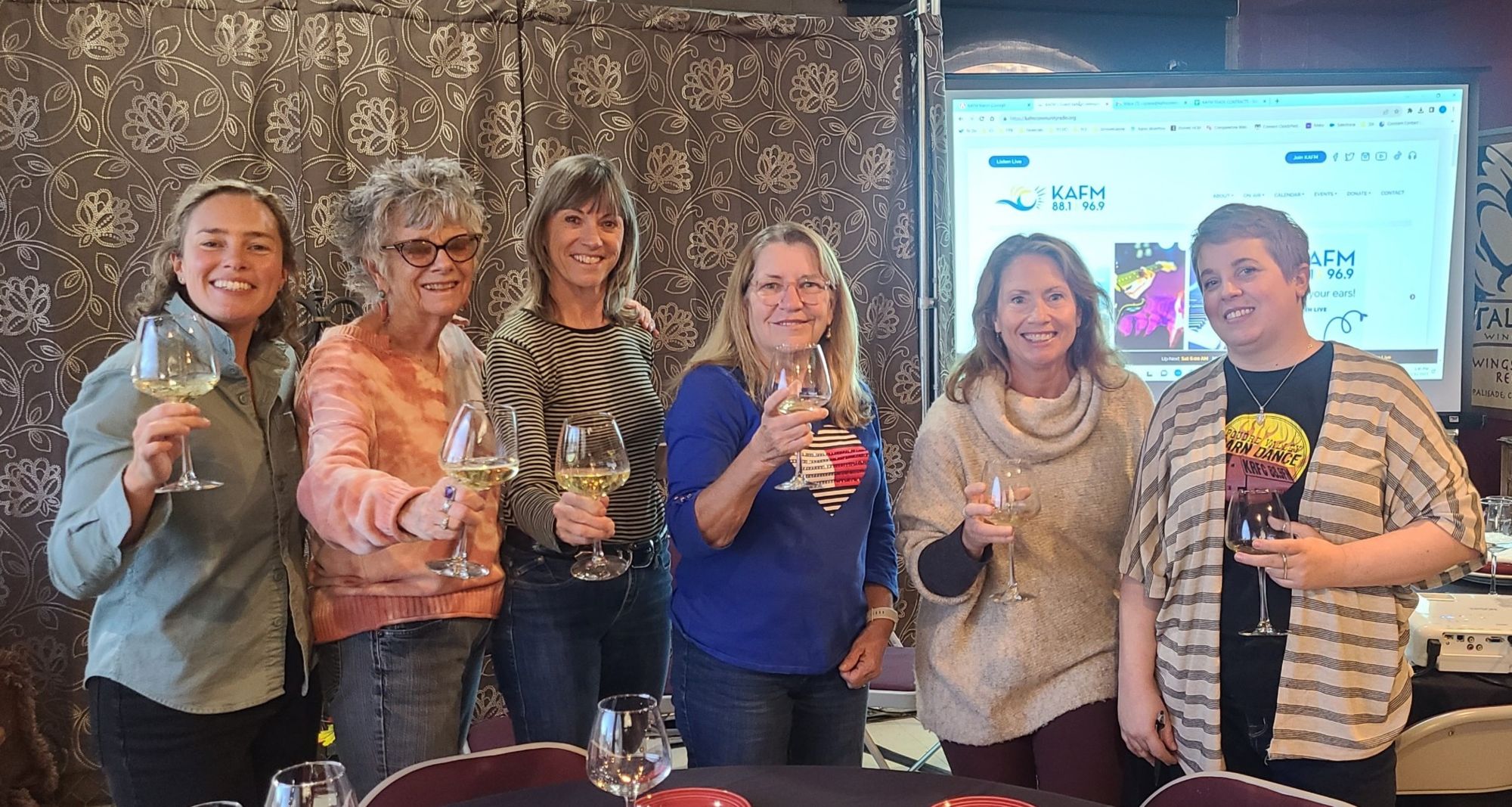 Left to right: Julia Coffey Treasurer, Marianne Griffin President, Linda Callahan Vice President, Linda Taylor Secretary, LeeAnn Wright Board Member, Tami King Board Member
MARIANNE GRIFFIN | BOARD PRESIDENT
Marianne Griffin moved to Grand Junction in 2020 after living in Mexico for 6 years. She came to Grand Junction to be close to family. She has actively supported public radio since the late 1960's: Pacifica Radio in California, KDUR at Fort Lewis College in Durango, CO, KSUT in Ignacio and KSJD in Cortez, CO, where she served on the Board of Directors through grant writing and Chaired their fundrasing committee.

Marianne has also served on other Boards. She served and chaired Hilltop House Borad of Directors in Durango from 1986 to 2001. Hilltop House in Durango is a halfway house for non-violent offenders to help them reintergrate into society after serving prison time. Ms. Griffin also served and chaired the Durango Lively Arts Community Theater Company Board of Directors from 1981 to 1991. She says the Lively Arts board was a very hands-on Board of Directors. Every member had to be prepared to build a set, act, produce a play, direct a production, sell tickets, or find props and costumes. "We had lots of fun, especially with our musical productions like, Paint Your Wagon and Joseph and the Technicolor Dream Coat." She added, "The Lively Arts Community Theater Company and KAFM Community Radio have similar goals; to bring fun and pleasure to their audience through music and art."

Marianne Griffin retired from Fort Lewis College where she directed two federally funded educational programs that enabled low-income youth and adults to access post-secondary education opportunites. She says that it was very satisfying to be honored wiht the opportunity to help young people and their family achieve their dreams. "For many families, this was the first high school graduate and the first to go on to college, very special."

---
LINDA CALLAHAN | VICE PRESIDENT
Linda came to Grand Junction CO with her husband Ken in Sept 2021 and has never looked back. She is originally from Chicago, IL which has a very rich art and music culture. It was at the age of 9 or 10 when she fell in love with the live music scene. Summers in Chicago were filled with opportunities to view and listen to musical acts every weekend, and most of them were free. The lakefront had many beautiful parks along it and Grant Park hosted BluesFest every June.

Chicago has an incredible radio station called WXRT. It is still going strong! They always played a wonderful variety of different music and artists. They had very knowledgeable DJs that knew or researched the artists they played and shared stories about them in such an engaging way. "This station was my way of finding out what concerts were where and as a youth I always found a way to get there. The CTA (Chicago transit authority buses and L) were my Uber back then. When I moved here, I longed for a music scene (but Covid still had everything shut down). I met the Executive Director Cyrene in the Radio Room at a Fruita Chamber networking event and fell in love with that room, and Cyrene's passion for music was as vibrant as mine.," states Linda. Linda is mom to 5 children who ALL have an affinity for music and culture.

Linda is active in her community with her social life and in her business. She loves to volunteer and does so with several organizations like the Fruita Chamber of Commerce as an Ambassador, The Moose lodge, helps promote events with Elevate Kids, has volunteered with United Way, and of course the Board of Directors with KAFM. She is passionate about being in the great outdoors with her husband. She enjoys hiking new places regularly, riding her road bike along the riverfront path, snow shoeing in the winter, Stand up paddleboarding, Camping, and taking in as many concerts as possible whether they are indoor or outdoor although outdoor is always preferred!

---
JULIA COFFEY | TREASURER
Julia Coffey is a local business owner in the Grand Valley. She has owned and operated Seeds Trust, High Altitude Gardens for 13 years and has dedicated her business to offering customers the best quality open-pollinated and regionally-adapted vegetable, wildflower, herb, and native grass seed. She encourages customers to save seeds and support local biodiversity.
Julia has been passionate and active with music her entire life. From starting her college career at CU Boulder with a focus on vocal performance and choral education, she has performed in all manner of musical groups from a cappella hip-hop to blues bands. She is currently a member of the Western Colorado Chorale and is thrilled to be a board member for KAFM community radio.
---
LINDA TAYLOR | SECRETARY
Raised in Kansas, Linda headed west after completing a formal education in Rehabilitation Counseling in 1976. Starting in 1977 and continuing for the next 45 years, she worked in human services with an emphasis on disabled populations.

Building a life In Mesa County meant buying a house on Main Street in Grand Junction and setting down roots. Her last position was as the Chief Executive Officer at the Center for Independence (CFI) from 2005 to 2022. This is one of 354 Federally Funded Independent Living Centers established by a 1976 Act of Congress which sought to address the returning Vietnam veteran's rehabilitation back into society. It is also one of 9 Colorado Granted Centers for Independent Living. All Centers operate as private non-profit corporations under a citizen Board of Directors.

Under this tenure, CFI grew from one rented space in Grand Junction to a fully owned 4-million-dollar Community Center in Grand Junction and 3 Satellite offices covering 12 counties across Western Colorado. This increased access to disability benefits, specialized services, advocacy, information and referral, and market rate professional employment for people with disabilities is all at no cost to consumers. CFI continues today as a beacon of help and support for all people with disabilities and their families.

"Retirement in 2022 marks a return to Kansas roots with a big garden, enjoying Colorado recreation summer and winter, music and the arts, and committing to volunteer for issues I am passionate about. I joined the KAFM Board to help build the communication tools for our community and give voice to all of the good things that are going on in Mesa County."
---
TAMI KING | BOARD MEMBER
Details Coming Soon
LEEANN WRIGHT | BOARD MEMBER
Details Coming Soon