Mission Statement
KAFM is a member-supported, volunteer-oriented community radio station dedicated to excellence and diversity in musical, cultural and public service programming. KAFM fills a vital role in the Grand Valley of Western Colorado as an accessible forum for the presentation of music, arts, culture and information by and for the local community.
About Community Powered KAFM

KAFM is the only local community radio station in Grand Junction, Colorado, one of less than 200 in the entire country, providing both eclectic music programming and special interest talk shows to listeners in the Grand Valley of Western Colorado and beyond. We're powered by over 250 passionate volunteers and an incredible corps of talented and vibrant programmers that you hear on-the-air at 88.1 in Grand Junction, and at 96.9 in the Peach and Wine Country of Palisade, Colorado. Our on-air Programmers are your friends and neighbors, they make KAFM truly "Community Powered" Radio.

In 1992, a small group of dedicated and civic-minded citizens sat down to discuss the possibility of creating a locally owned, operated, and programmed community radio station in Grand Junction. Seven years later, the station made its first broadcast. Today, while media consolidation continues, KAFM continues to grow stronger every year. The recipe for this success story is quite simple: provide a place where local folks can program music genres with a human touch, be accessible by all people and organizations in the community so they can share valuable resources to the listening audience, and to provide an open platform where all viewpoints are welcome.

KAFM is licensed by the Federal Communications Commission to Grand Valley Public Radio Company, Inc., a 501(c)(3) nonprofit corporation.
Our Solar Initiative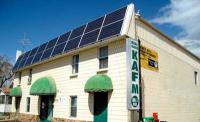 During the week of April 6, 2008, the switch was thrown, and as fast as an electron KAFM's dream to become the first partially solar-powered radio station in the Grand Valley became a reality. If you've driven by the station at 1310 Ute Avenue, you've seen the 20 180-watt panels now lining the top perimeter of the building. These panels reduce KAFM's power bills by up to 30%, and represent the station's commitment to steward its resources in an intelligent, sustainable and responsible way.
KAFM's solar power system would not have been possible without the generous dedication of
High Noon Solar
, the local company that designed and installed the system.
High Noon Solar specializes in residential and commercial solar installation in Western Colorado, and can be reached at (970) 241-0209.