Genie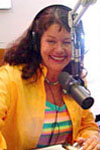 EMAIL

I play a variety of blues, rock and Americana, probably in that order. Lots of new music and some great older tunes.
I come from a music-loving family. My grandfather was a concert pianist, and my parents loved music and dancing. We lived in Italy for awhile, and my big brother and I listened to radio-free Europe. In my college years, I got involved in a "progressive" FM station in Denver and owned part of a small recording studio.
I have family in Austin who turned me on to lots of blues -- and I don't think I have any good friends who aren't music freaks. After living in San Francisco for 20 years, England for one, and lots of travel, I ended up in Grand Junction, wondering, "What the @#$%#@ am I doin' here?" Now I think it's such a sweet place to live. SO much of that has to do with KAFM. Yes! A cultural oasis alright!