IRL: The National at Red Rocks - July 31, 2016
L to R: Bryce Dessner, Scott Devendorf, Matt Berninger, Bryan Devendorf, Aaron Dessner.
The National are becoming a household name for rock/indie music these days, but the band's been around since 1999. Maybe it's because of their characteristic slow, moving, introspective songs not being radio hits, or maybe it's because they weren't making music for anyone but themselves.
Or, maybe, you just kept missing each other.
The good news is that it's okay, and there's plenty of time for you to get acquainted with this creative, unsuspecting group of guys as they continue their rise to music masterdom. Their 6th and latest album, Trouble Will Find Me, was nominated for Best Alternative Album Grammy in 2014, just sayin'.
The National is made up multi-instrumentalis brothers Bryce (also an acclaimed composer) and Aaron Dessner
(writes most of the music)
, brothers Scott (bass) and Bryan Devendorf (drums), and Matt Berninger (lyrics and vocals) (who has a brother, but not in the band. His brother made a documentary about the band though -
Mistaken for Strangers
, which is awesomely funny and endearing, by the way)
Anyway, on to the whole reason I'm posting this - I recently was lucky enough to see That National at Red Rocks Ampitheatre in Denver, CO! And throughout the show, they played a remarkable number of songs I didn't know, and as (huge) fan, I took note of this and made a (fairly safe bet) hypothesis - a new album is on the rise.
Well, yeah.
Pitchfork told us all about it in May, but hey, I'm a little slow on the draw sometimes.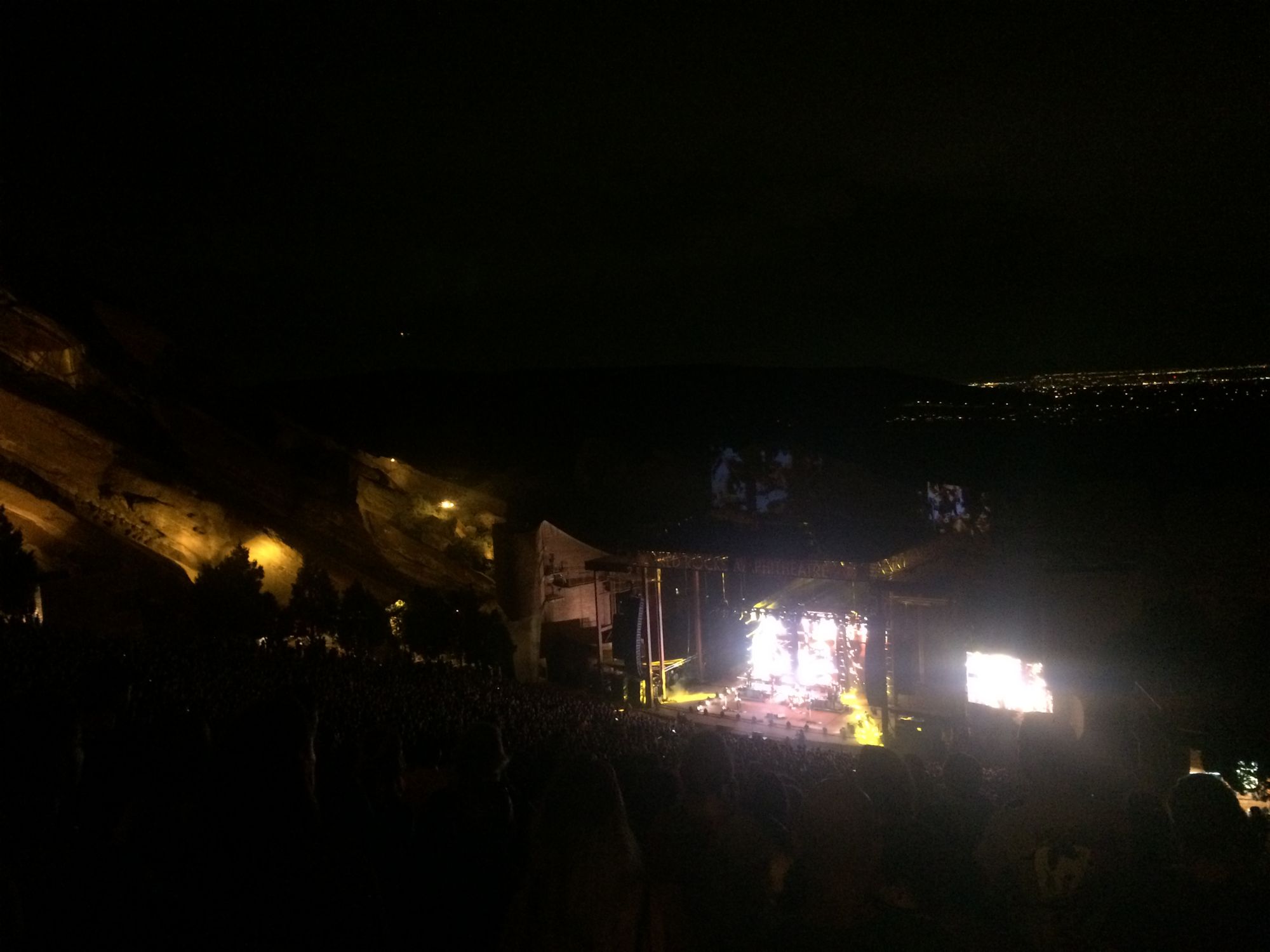 I swear that's the band. It's blurry, but only because I was there with my old iPhone, which is a better picture than one stolen from Google images any day in my book.
When I was 15 I saw The National open for Modest Mouse, who opened for R.E.M. and have missed them on every tour for the last decade, so to see them after all of this time I found that I really paid attention to their performance and noticed the intricacies that make this band something bigger.
The Dessner brothers are geniuses, let's just get that out there.
There are times in their music I hear something and wonder "How did they make that sound?" and a lot of those questions were answered on July 31. For example, this broad, shaking reverb effect that I hear on their albums - Bryce grabbed another guitar, while still holding his own, and proceeded to gently tap the 2nd gutiar's headstock onto the stage, bringing that fuzzy, vibrating sound to the background of the song.
Neat
. Very neat.
Let's not discount the Devendorf brothers though. Bryan (drums) has one of the best senses of time in popular music as far as I can tell. The National has so many songsthat dip into 9/8 or even 7/4, which are incredibly difficult time signatures to follow rhymically. and Bryan not only sticks to these signatures, but elaborates
so well
with percussion that one can listen only to the drums for an entire song and be captivated.
And Matt Berninger's live energy is amazing. For his controlled, sometimes monotone vocals, this man really has a presence. All around the stage, into the crowd, and back - you can feel how meaningful his lyrics are to him, and it makes them meaningful to you.
The band ended the show with this song,
Vanderlyle Crybaby Geeks
- but for a few seconds I didn't know it.
They pulled out acoustic guitars, unplugged the mics, and started the front of the crowd singing. Then the middle caught on, then the back (where I was) heard it, and then I sang my heart out.
I would post a picture of it here, but I was too busy being in the moment.
The National is definitely a band not to miss, but at this rate, I don't think they're going anywhere.
Ease into their music when you can, they don't mind when you arrive.