Charts January 15-21
Well hello there, nice to meet you!
My name's Tori, I'm the new Music Director here at KAFM, and this is my first post on the New Music Blog.
So, let's talk KAFM charts, shall we?
JAZZ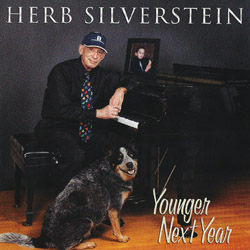 1 HERB SILVERSTEIN Younger Next Year Self-Released
2 RON SUNSHINE Bring It Home Cellar Live
3 CLARE FISCHER Out Of The Blue Self-Released
4 ZAHILI GONZALEZ ZAMORA PROJECT Z-isms Jazz Urbane
5 BIG PICTURE HOLIDAY Shimmer And Melt Ropeadope
6 SVETLANA AND THE DELANCEY FIVE Night At The Speakeasy oa2
7 LEE RITENOUR A Twist Of Rit Concord
8 LARRY NEWCOMB QUARTET Live Intentionally! Essential Messenger
9 MANUEL VALERY AND GROOVE SQUARE Urban Landscape Destiny
10 FOURPLAY Silver Concord
WORLD
1 STICK FIGURE Set In Stone Ruffwood
2 BLACK MASALA I Love You Madly Self-Released
3 TRIBECASTAN Goddess Polka Dottess Evergreene Music
4 EMPRESARIOS The Vibes Self-Released
5 JONNY GREENWOOD/SHYE BEN TZUR/RAJASTHAN EXPRESS Junun Nonesuch
6 MELODIC INTERSECT One Vision Aimrec
7 BOOGARINS Manual Other Music
8 KISHI BASHI String Quartet Live! Joyful Noise
9 BUCKMAN COE Malama Ka 'Aina Tonic
10 BARRULE Manannan's Cloak Self-Released
COLLEGE
1 CAGE THE ELEPHANT Tell Me I'm Pretty RCA
2 STICK FIGURE Set In Stone Ruffwood
3 DAVID BOWIE Blackstar Columbia
4 FOO FIGHTERS Saint Cecilia [EP] RCA
5 NED AND THE DIRT Wild Pack: Haunt These Woods [EP] Self-Released
6 BILLY GIBBONS AND THE BFG'S Perfectamundo Universal
7 TEDESCHI TRUCKS BAND Let Me Get By Concord
8 DRESSY BESSY Kingsized Yep Roc
9 REED TURNER Native Tongue Self-Released
10 GRIMES Art Angels 4AD
ROOTS
1 ANGELA PERLEY AND THE HOWLIN' MOONS Homemade Vision
2 JOHN DEL TORO RICHARDSON Tengo Blues
3 PROFESSOR LOUIE AND THE CROWMATIX Music from Hurley Mountain
4 BENNY TURNER When She's Gone Nola Blue
5 SARAH PIERCE Barbed Wire Little Bear Records
6 JENNY & TYLER Of This I'm Sure Residence Muisc
7 THE ROYAL DOMINOS Dead Mother's Club Strange Key Records
8 SAM LEWIS Waiting on You Brash Music
9 ANGELA PARRISH Faithful and Tall EP Stick Horse Carousel Records
10 JOHN BOWMAN Beautiful Ashes Mountain Home
Check back in next week to see where your favorites land.
As programmers, you have the power to help your favorite artists get more airplay, so keep spinnin' what you love!