Charts October 30th - November 5th
First week of November! Here's what the new month brings us:
Jazz
A few familiar names - but John Pizzarelli keeps climbing! Can't break Jazz at Lincoln Center Orchestra, though:
1 JAZZ AT LINCOLN CENTER ORCHESTRA WITH WYNTON MARSALIS Live In Cuba Blue Engine
2 JOHN PIZZARELLI Midnight McCartney Concord
3 WESTERN STANDARD TIME A Big Band Tribute To The Skatalites, Vol. 2 Vintage Vault
4 BOB MCCHESNEY Chez Sez MoCo
5 ARTURO SANDOVAL Live At Yoshi's ALFI
6 JEFF LORBER FUSION Step It Up Concord
7 JOANN FUNK AND JEFF BRUESKE Jazz In The Lobby Bar Self-Released
8 LUCIANA SOUZA Speaking In Tongues Sunnyside
9 LIZZ WRIGHT Freedom And Surrender Concord
10 ANTONIO ADOLFO Tema AAM
World
SoulJazz Orchestra, still dominating this week!
1 SOULJAZZ ORCHESTRA Resistance Strut
2 VIEUX FARKA TOURE AND JULIA EASTERLIN Touristes Six Degrees
3 EMPRESARIOS The Vibes Self-Released
4 BOOGAT Neo-Reconquista Maisonette
5 GRUPO FANTASMA Problemas Blue Corn
6 NATION BEAT Carnival Caravan Self-Released
7 BALLAKE SISSOKO AND VINCENT SEGAL Musique De Nuit Six Degrees
8 CEU Live Six Degrees
9 TRIBECASTAN Goddess Polka Dottess Evergreene Music
10 GABRIEL ALEGRIA AFRO-PERUVIAN SEXTET 10 Zoho
College
Is anyone surprised Lucero is still king? But Drive-By is inching closer and closer...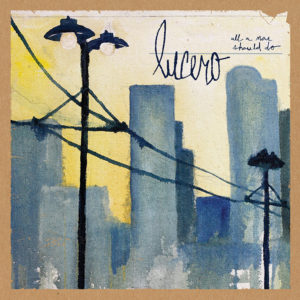 1 LUCERO All A Man Should Do ATO
2 DRIVE-BY TRUCKERS It's Great To Be Alive! ATO
3 NATHANIEL RATELIFF AND THE NIGHT SWEATS Nathaniel Rateliff And The Night Sweats Stax
4 BLITZEN TRAPPER All Across This Land Vagrant
5 JASON ISBELL Something More Than Free Southeastern
6 WIDESPREAD PANIC Street Dogs
7 GARY CLARK JR. The Story Of Sonny Boy Slim Warner Bros.
8 DECEMBERISTS Florasongs [EP] Capitol
9 DARLINGSIDE Birds Say Self-Released
10 CIRCA WAVES Young Chasers Virgin
Roots
There's some movement here as well - a lot of debuts!
1 EDDIE COTTON One at a Time
2 JAMES COTTON Might Long Time
3 TOMMY CASTRO AND THE PAIN KILLERS Method to My Madness
4 MICK ROTHMAN Place, Loss, Love & Life: The Songs of Mick Rothman
5 LANCE CANALES The Blessing and the Curse
6 HEATHER CROSSE Groovin' at the Crosse Roads
7 WARREN HAYNES Ashes & Dust
8 PINETOP PERKINS Pinetop's Boogie Woogie
9 JUDY COLLINS Strangers Again
10 TUMBLEWEED WANDERERS Realize
A lot of movement this week, keep it tuned to see what we've got next Friday!!